Last year I started with a new hobby: paragliding. I have always wanted to fly, but somehow I never started with it. Finally I decided to take paragliding lessons with Paragliding Holland (PaHo), and my dreams came true.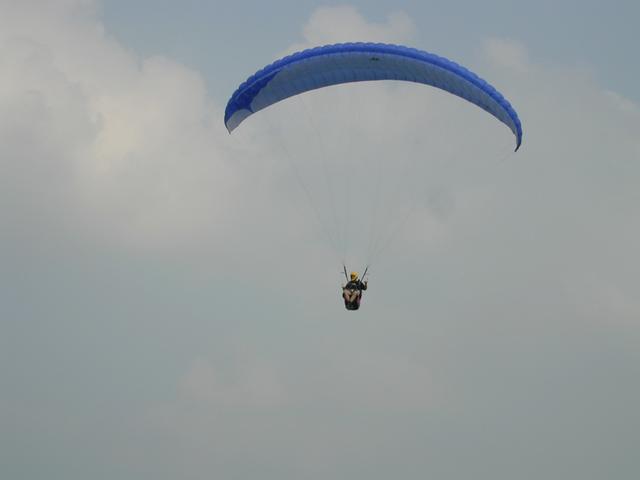 Have a look at some pictures from the ground training on August 25, 2002.
And here are my first real flights. What a great experience!
In May 2003 it got even better: I made my first flights in the Vosges mountains in France, with PaHo . We were extremely lucky to have 4 beautiful days in a row. The only downside was that it was almost too warm for climbing the Gustiberg with all the gear... But it had its rewards: the amazing experience to get airborne by just running down a slope! Have a look at some pictures...
In September 2003 the trip to the Vosges was repeated: again we had 4 great days, 3 of which offered perfect flying conditions. I made my first flight in thermals, ascending to almost 500 meters above the take-off on the Gustiberg, and flying for almost an hour. This may not sound very special to experienced pilots, but for me it was very exciting! Again, I took plenty of pictures.

Action Airsports Paragliding Professionals (Dutch)
PaHo: AirAdventure Paragliding Holland (Dutch)
KNVvL: Schermvliegen (Dutch)
E-Lijn Magazine (Dutch)
Wrongwind's Paragliding Pilot Web Page Links
Himalaya Paragliding - Paragliding Adventures in the Indian Himalayas

Events

Red Bull X-alps Race: Crossing the Alps East to West

Weather

KNMI: Royal Dutch Weather Service (Dutch)

Gear

APCO - Paragliders
SKY - Paragliders
Bräuniger - Flight Instruments