Introduction
In 2002 I visited the Oulanka National Park twice, hiking the Karhunkierros trail. When I prepared for the trip I could not find too much useable information on what to expect, so I had to figure it out myself when I got there. I have collected most of that information on this page, hopefully it will be of use for those who want to experience this great trail themselves.
If you find that some of the information presented here is not correct, or you have additional information or comments, please e-mail me.
Parts of this page are still under construction, please bear with me (no pun intended)...
The Oulanka National Park
Oulanka is a National Park (in Finnish: Kansallispuisto) north of Kuusamo, close to the Russian border on the border of Lapland and the Oulu province. It lies just south of the Arctic Circle, approximately 850 km from Helsinki. The closest airport is at Kuusamo, which is the main town of this area. The primary place for information about the park is the Visitor's Centre at Oulangan Luontokeskus ("Oulanka Nature Centre"). Other sources of information are the Metsähallitus Information Center in Kuusamo, and the Information Desk in Ruka (in the RukaKlubi! building).
Karhunkierros: The Bear's Ring
The trailhead at Hautajärvi, just south of the Arctic Circle
The park features about a dozen maintained trails, but the most well-known hiking trail in this park is the 80 km long "Karhunkierros", which translates to "The Bear's Ring". This trail is also referred to in English as "The Bear's Trail". It is noteworthy that despite its name the trail is not circular! You will need some form of transportation to bring you to your starting point and/or to pick you up from your endpoint. The alternative is to retrace your steps back to your starting point.
The trail runs from north to south through the full length of the park and beyond, following the Savinajoki, Oulankajoki and Kitkanjoki rivers for most of its length. Also, again contrary to what the trail's name suggests, bears are very rarely seen along this trail.

The trail runs through different types of terrain, varying from easy going well maintained paths on plateaus to almost non-existent rocky trails that require scrambling over rocks or climbing quite steep slopes. Especially the section near Ruka can be quite demanding.

Although most people walk this trail from north (Hautajärvi or Ristikallio) to south (Ruka or Juuma) there is no reason why you could not do it the other way around.

Todo:
Campsites and cabins.
Almost no food or facilities along the trail.
Link to Metsähallitus backcountry etiquette, garbage points, fire
Ristikallio-Taivalköngas alternative
Links in text
Trail length
Hautajärvi to Ruka: 80 km
Ristikallio to Ruka:

Distance table (approx):
Special sights
Oulangan Kanjoni (canyon)
Taivalköngas (rapids)
Ristikallio (cliffs)
Kiutaköngas (rapids)
Jyrävä (waterfall)
Konttainen (high viewpoint)
Valtavaara (high viewpoint)

and many more...

Ristikallio
When to go
The park is very close to the arctic circle, so winters are long and summers are short. The best time for hiking is from late May to late September. In the early spring the trail can be extremely muddy because of the melting snow. During the summer months the nights are extremely short at this latitude, providing a lot of daylight for walking. In September it already starts to get dark very early, which puts more pressure on you to reach a cabin or campsite in time. This trail is not easy to walk in the dark! In October it can be quite cold and it may even already start snowing.
A special note is deserved by the Ruska, "autumn colors". These are at their best during September, but depend on the type of summer. Because of this September is one of the busiest periods of the year along the trail, so cabins can be crowded...
Trail conditions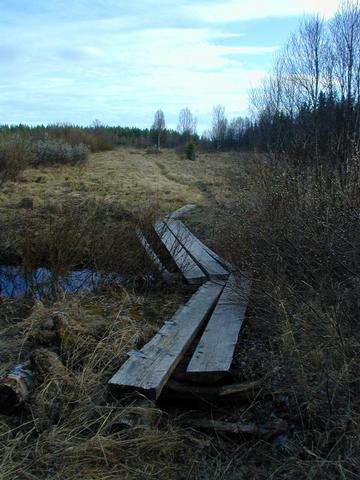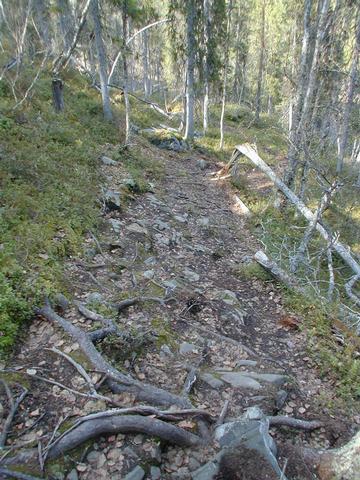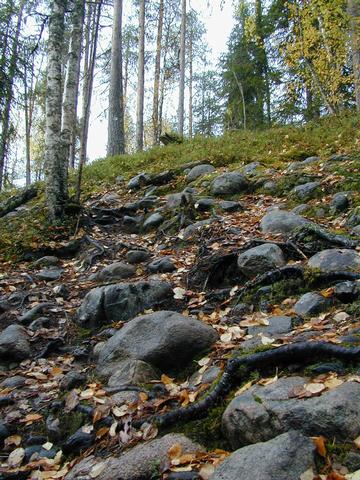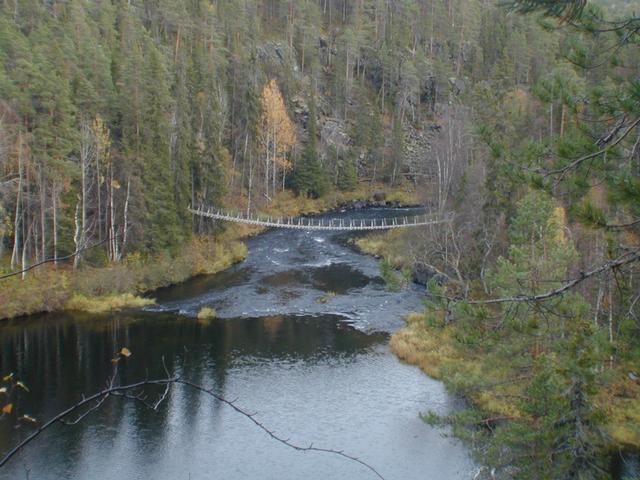 The trail is quite easy when the weather is dry. When it is raining, or in the early spring when the snow is melting the entire trail can be very muddy and slippery.
On some sections along the Kitkanjoki river the trail is almost non-existent, forcing you to find your way over boulders and rocks along the steep banks of the river.
The section near Ruka leads over virtually every summit the trail can find, with a couple of steep climbs and descents.
Although this is quite an easy trail in spring, summer and fall, do not attempt to walk this trail in winter unless you are very experienced in winter hiking and snowshoeing. Alternative trail sections exist in the winter for cross-country skiing.
Access points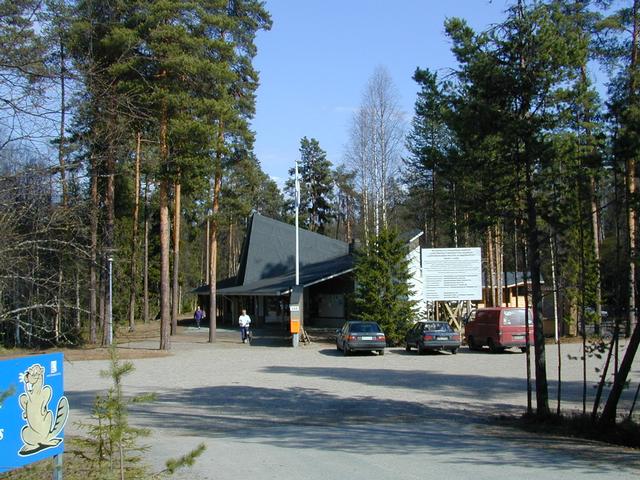 Oulangan Luontokeskus, the Visitor's Centre
The main access points to the trail are:
Hautajärvi (northern end of the trail)
Oulangan Kanjoni
Ristikallio (start of the Ristikallio alternative trail)
Oulangan Luontokeskus (approximately halfway)
Juuma
Ruka (southern end of the trail)
There are also a couple of locations where the trail crosses a small road, allowing access to the trail.
Some of these access points (Hautajärvi, Ristikallio, Luontokeskus, Juuma and Ruka) can be reached by bus. This is essentially a schoolbus service and the time table is quite complex, depending on weekdays, seasons, holidays, school vacations, etc. Exact information can be obtained from the tourist information desk in Ruka (in the RukaKlubi! building).
The most convenient way of getting to a trail access point is either by car or taxi.
Trail breakdown
When you want to spend the nights in the cabins along the trail a possible breakdown could be:
| | | | |
| --- | --- | --- | --- |
| Section | Distance | Difficulty | Remarks |
| Hautajärvi - Taivalköngäs | 19 km | easy | After 15 km you reach Olangan Kanjoni and the Savilampi cabin. Climbing Oulangan Kanjoni is a highly recommended detour. Quite a climb, though. |
| Taivalköngäs - Jussinkämppä | 24 km | easy, with some difficult spots | Halfway this section you pass the park's visitors centre "Luontokeskus" and the Kiutaköngäs rapids. |
| Jussinkämppa - Siilastupa (Jyrävä) | 16 km | difficult trail along the river | As an alternative to Siilastupa, you can sleep in the old mill at Myllykoski rapids. |
| Siilastupa - Porontimajoki | 9 km | easy | It is possible to add 'Pieni Karhunkierros' (The Little Bear's Ring) or a visit to Juuma or Myllykoski rapids to this section. A couple of km's from Jyrävä the trail leaves the Oulanka National Park. |
| Porontimajoki - Ruka | 16 km | some very steep slopes | This is one of the most demanding sections of the trail, working your way over the hills as you approach Ruka. |
| Total | 84 km | | |
There are of course other possibilities, depending on how far you want to walk on a day. Note that there is no cabin between Taivalköngäs and Jussinkämppä anymore since the Ansakämppä hut burned down on December 25th, 2002.
| | |
| --- | --- |
| Kota | Laavu |
As an alternative for the cabins, you can make use of Kota's and Laavu's.
A kota is a Lappish tipi-like hut. The kota's are not shown on the Oulanka map. A kota can be found:
Between Hautajärvi and Oulangan Kanjoni, near Savinanköngäs. The kota stands approx. 200m from the trail. Watch for signposts.
Between Jussinkämppä and Siilastupa.
On Valtavaara, follow a path for approx. 100m down from the summit.
The kota's are much smaller than the cabins and offer less facilities.

A laavu is a small wooden 'lean-to' shelter. These are even smaller, offering a place to sleep for about 4 or 5 persons. There are lots of these along the trail, and most are shown on the Oulanka map. Most laavu's feature at least a campfire place and a stack of firewood.

If you are willing to camp, you get even more flexibility as there are numerous campsites along the trail. Camping gives you a far better 'feel' for the park and it gives you the opportunity to avoid the sometimes very busy cabins.

The difficulty of the trail depends very much on the weather and trail conditions. Keeping the daily distances short allows for extra margin when the weather turns bad, and gives you time to enjoy the scenery along the trail. In the end it all just depends on the weather, the amount of gear (i.e. weight) you carry with you and the physical shape you are in.
Supplies
Along the trail it is almost impossible to buy food or supplies. The only places are the visitor centre at Luontokeskus (cafeteria only, no shop) and the small township of Juuma, which has a cafeteria and a shop at the camping, high season only.
If you have a car, the following places offer some supplies and facilities. Be aware that some shops are only open during the high season!
| | |
| --- | --- |
| Location | Facilities |
| Käylä | Gas, Supermarket |
| Ruka | Gas, Food & Supplies, Gear, Hotel, Restaurants, Taxi, Bus station, Excursions |
| Kuusamo | Shops, Supermarkets, Gas, Restaurants, Hotels, Taxi, Bus station, Airport, Medical care |
| Hautajärvi | Food store, Gas, Cafeteria, Park information |
| Juuma | Cafeteria, Camping store |
| Oulangan Luontokeskus | Cafeteria, Park information |
Ruka is a major ski resort, but it also offers a lot of facilities for hikers.
Kuusamo is the largest town in the area and offers almost all facilities you may need.
Area Map
The official map is the Genimap 'Rukatunturi/Oulanka' 1:40 000 Outdoor Map. This map is highly recommended, and absolutely necessary for planning your hike. It shows the locations of all cabins, campsites and shelters on the trail.
It is sold in most shops in the area, and at the visitor centres at Hautajärvi and Oulangan Luontokeskus.
There used to be a shop in Helsinki where you could buy all national park maps too, called Tikankontti, but Metsähallitus closed it in March 2003.

To use this map in combination with a GPS receiver, have a look at my page on using GPS with Finnish maps.
Gear
Navigation
This is a well marked trail which is quite easy to follow, so navigational aids are not necessary to follow the trail. Having said that, it is always a very good idea to prepare for the worst. The map described above is absolutely essential in case you lose the trail or to monitor your progress.
Don't leave home without a compass. This is the basic navigational aid, and together with the aforementioned map it is everything you need. And make sure you have the skills to use them...
A GPS receiver can be very handy too, giving your exact position in case of emergencies. See my page on how to use your GPS with Finnish maps. Note that although a GPS is a very useful item, it does not replace a compass. A GPS only works if you have a clear view of the sky, and it depends on batteries to work at all...
Bring your mobile phone. You are in Finland: there is almost no spot along the trail where your phone will not work. This means you can almost always reach emergency services in case of serious trouble.
Bring fresh batteries for your equipment: there is no place along the trail where you can recharge them. Better still: do not depend solely on electronic equipment!
Food and water
As mentioned before: there are no places where you can buy food along the trail so you have to bring your food with you.
There is an unlimited supply of water on the trail: it runs alongside rivers for most of its length and it crosses countless streams.
According to local people you can drink the water from the streams without any problems, but I felt it safer to use a microfilter. A simple filter for bacteria and protozoa (e.g. Pur/Katadyn Hiker) will suffice, viruses and chemical pollution are not very likely in this park.
Walking
Although this is a well maintained trail, almost all of it is going over rocks and tree roots. There are some steep climbs and descents and sometimes scrambling over loose rocks or through streams is required. When it is raining, or in the early season, the path can be very slippery and muddy. Adequate foot gear providing good (ankle) protection is highly recommended. A pair of (telescopic) walking poles are also recommended, they will increase your balance on the tricky parts and take a significant part of the load off your legs on the steep parts, especially when carrying a heavy pack.
Cabins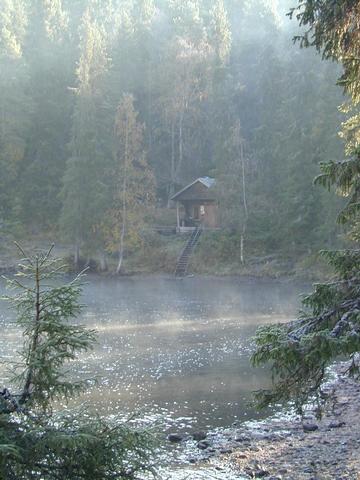 The Siilastupa cabin near Jyrävä falls
For a lot of people the most convenient way of staying overnight is by making use of the cabins along the trail. This saves carrying the weight of a tent and offers more comfort, especially in bad weather. However, during the peak season, cabins can be quite crowded.
The cabins along the trail are well maintained and offer all the necessary basic facilities: a place to sleep, cook, dry your gear, and a toilet (outdoors). The cabins can be heated by a wood furnace when it is cold. All cabins are located near a water source and are provided with a large supply of fire wood. They all feature a campfire site and sufficient space to put up a tent. It is not possible to make reservations for the cabins, it is first come, first served. The Oulanka map shows the locations of the cabins, and the number of people they have room for. This is a conservative number, I have spent nights in cabins with twice the listed number of people.
Cooking
Some cabins are provided with a gas stove on the porch. Be prepared to wait a long time for your turn when the cabin is busy, or bring your own stove. Refill gas tanks for most types of camping stoves (including Primus/Markill/MSR) can be obtained in Ruka or Kuusamo. Bring your own pans.
Sleeping
All cabins feature a wooden dais to sleep on. A sleeping bag and an inflatable or foam mattress is all you need.
Camping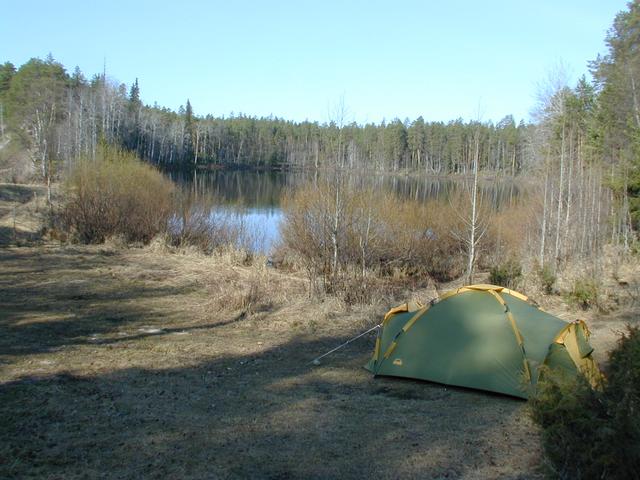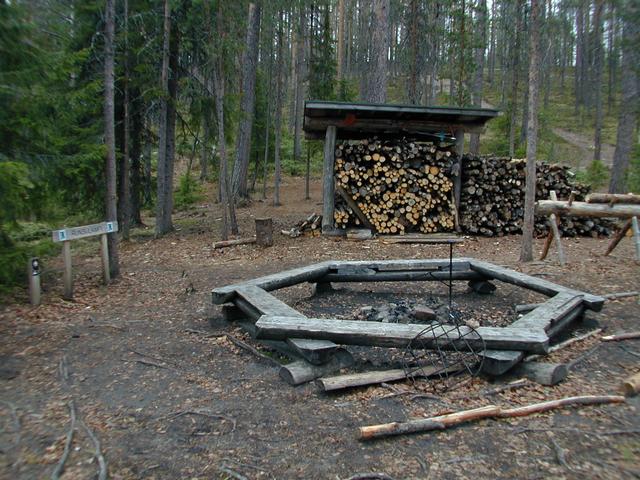 Camping at Runsulampi campsite
Camping is the best way to really experience the park, in my opinion. In addition, it offers you more flexibility in choosing your itinerary: there are far more campsites along the trail than cabins.
Please note that camping in this park is only permitted at the designated campsites!
Most of the park's campsites are nothing more than a relatively flat area between the trees. There are tree roots and rocks everywhere, don't expect a nice soft field of grass. It may require some improvisation skills to find a proper place to put up your tent. Tents with a small footprint and requiring few pegs are at an advantage here.
All campsites are located close to a water source (river, stream, lake) and are provided with a large stack of firewood, a saw, an axe and a campfire place. Some campsites even feature a picknick table and/or a toilet.
As mentioned before: this trail is located just south of the arctic circle, expect nights to be very cold outside the summer season. A good sleeping bag and a mattress providing good thermal insulation are a necessity.
Additional information
Metsähallitus , the Finnish Forestry Authority that operates the National Parks.
The town of Kuusamo .
The Ruka Skiing Resort. This site is half in English and half in Finnish. It has information on taxi's and buses, and includes a bus timetable.